Professional Rock Drilling and Blasting Since 1988.
McCallum Rock Drilling (MRD) is a family-owned and operated full-service rock drilling and blasting contractor. We have been performing precision drilling and blasting in highly-controlled environments since our inception in 1988.
We currently operate throughout the Western United States including Alaska, Arizona, California, Colorado, Idaho, Montana, Nevada, Oregon, Texas, Utah, Washington and Wyoming and beyond. We perform all applications of drilling and blasting including large scale commercial quarries, heavy construction, road and highway construction, residential and commercial development, and utility and trenchline work.
In addition to MRD, McCallum Powder was created in 2016 to assist in the manufacturing, storage, and transportation of explosive products for all MRD blasting operations.
We also have a robust safety division and offer a variety of safety services for the mining, construction, and timber industries. These include both in-person and virtual MSHA Part 46 and Part 48 training, safety audits, and accident investigations.
All day, every day, rock drilling and blasting is what we do. 
The City of Tacoma had plans to construct a new fish collection facility and powerhouse at Lake Cushman Dam No. 2. For the new facility to be constructed, over 350 cubic yards of rock needed to be removed next to Lake Cushman Dam…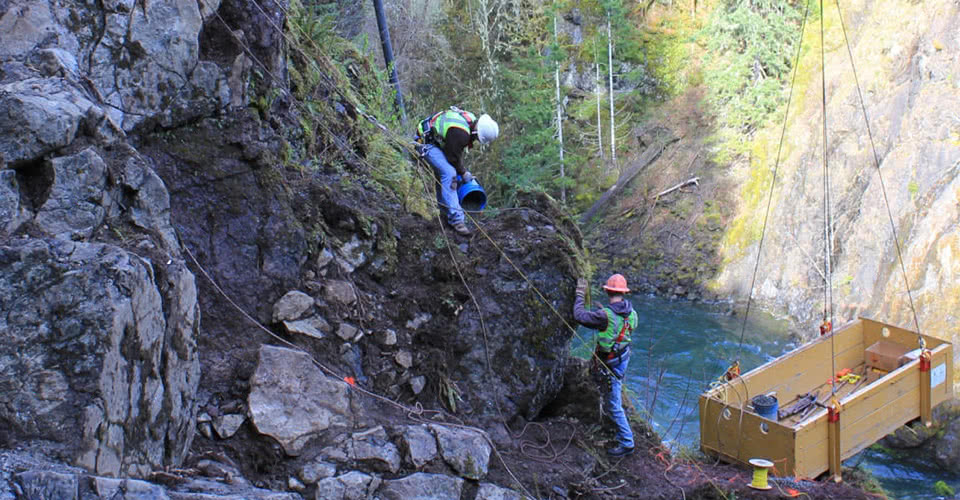 "I have worked with McCallum Drilling for over 20 years and their professionalism and dependability is superb. They have quality operations and are always striving for the newest technology as well as performance."
Stephan Dillon
Area Manager, Forest Management
"Go to contractor for drilling and blasting. Safe blasting plans and employees. Contractor will work with you for optimal long term pit planning in order to minimize cost."
Justin Thomas
Engineer
"Great service, customer oriented, cost competitive, responsive to schedule and always looking for ways to plan and prepare for the next move in setting up a pit for long term safe, efficient and maximized utilization."
Shane Forsyth
Area Manager
McCallum Rock Drilling has been providing full-service rock drilling and blasting services since 1988. Our commitment to our clients and track record for quality is unmatched.
We are committed to providing and maintaining a safe and healthy working environment for all employees, customers and contractors through our comprehensive health and safety program.
As an authorized Furukawa Rock Drill USA dealer we operate exclusively Furukawa rock drills. This equates to minimal downtime with manufacturer-trained mechanics and technicians and an extensive stock of tools and parts.